How Can 3D Laser Scanning Quickly Capture Historic Buildings?
Renovating a historic building is a slow process. From rework to outdated as-built drawings, there are many factors that can delay your construction project—sometimes for months. With the right tools, you can ensure your renovation project runs smoothly, avoiding any errors and staying ahead of schedule.
3D laser scanning is one of these tools, providing architects and builders with the precise measurements they need to streamline renovations. Scanning also speeds up the process by capturing measurements up to 75% faster than traditional surveying methods.
Below, we discuss four major benefits of using 3D laser scanning to document historic buildings. We'll also describe a case study in which we scanned a 1916 armory, leveraging our scan data to coordinate and install a mechanical piping system.
What Is 3D Laser Scanning?
3D laser scanning is a highly accurate technology that uses a laser beam to capture the measurements of its surrounding area. As the scanner processes its surroundings, it picks up billions of data points, forming a point cloud. This point cloud is a 3D representation of the area scanned, with accuracy levels down to the millimeter.
While the scanner is collecting these data points, it's also capturing high-resolution images of the surrounding area. A trained technician can map these images onto the point cloud data, providing you with a complete visual overview of your building.
Learn more about 3D laser scanning in our recent blog.
How Can 3D Laser Scanning Capture Historic Buildings?
With the right tools, you can keep your renovation project on track. Here are four benefits of using 3D laser scanning services to capture your historic building.
1. Precise Measurements
It's hard to take accurate measurements of complex building structures, especially when you're using a tape measure. Measurements taken by hand are often imprecise, not to mention incomplete. They lack important details that may need to be referenced later, says Michael Rogers, a specialist in historic preservation:
"You never know what questions you're going to need to ask … Somebody might want to know how two beams were joined, and perhaps it wasn't written down. They can just go to the laser scans [to find out]."
In contrast to hand measurements, laser scanning captures historic buildings down to their smallest details, including their unique surfaces and architectural elements. This level of detail can help guide you during renovations—allowing you to view and recreate the original building designs with greater precision.
2. Fast Scene Capture
In addition to being more precise, laser scanning is also a faster way to measure your project site. A scanning technician can capture your site up to 75% faster than with traditional surveying methods, keeping labor costs low. This is because laser scanners capture billions of data points within minutes, reducing the time needed to measure your project site.
"Architects have to capture reality all the time," says Paul Aubin, author and architectural consultant. "We used to do it with a tape measure and a yellow notepad. It's more efficient to use a device."
Want to learn how 3D scanning can help you capture exact measurements of your site? Schedule a free demo with our 3D scanning experts here.
3. Less Rework
Renovation projects tend to suffer from delays, especially when teams are working from outdated as-built drawings. According to the Construction Industry Institute, construction firms spend an estimated $15 billion a year performing rework on projects because of inaccuracies in the initial drawings.
It's important to ensure your as-builts fully reflect the existing conditions. A laser scanning technician can help you capture as-built data within minutes—quickly updating your drawings. You can then use this survey-grade data to identify obstructions that might interfere with construction, eliminating the need for future rework.
4. Fewer Risks
Older buildings are often too fragile or dangerous to safely access, making them difficult for field teams to properly measure. But if you leave out critical measurements in your drawings, you risk inaccuracies that could lead to costly mistakes.
Laser scanning provides a safe way to capture areas that are otherwise inaccessible, like high ceilings or ductwork. It's also less obtrusive than taking measurements by hand, allowing you to protect fragile architecture from damage. By using laser scanning to capture your site conditions, you can keep your team safe while preventing any damage from happening to the building.
Case Study: Scanning a 1916 Armory to Prepare for Renovations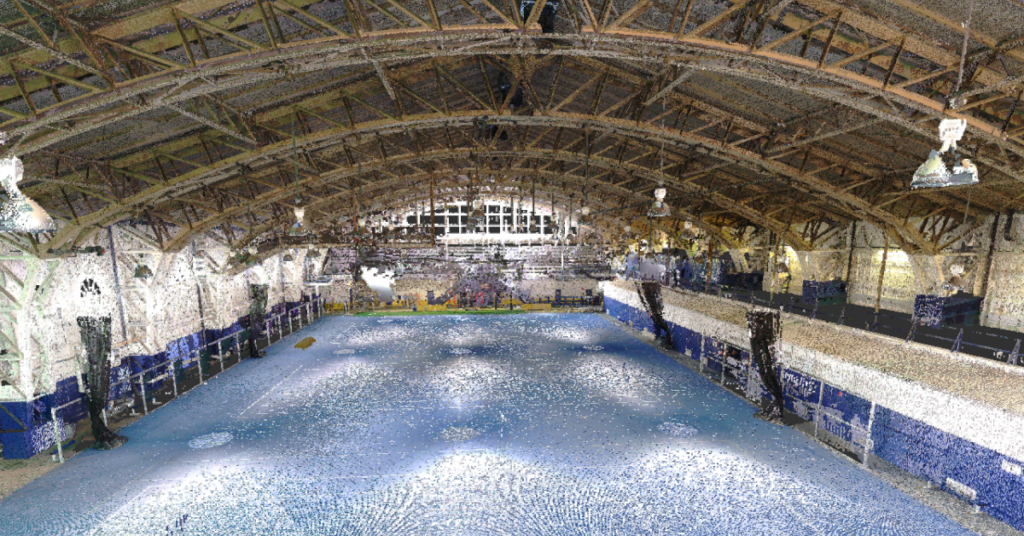 To prepare for the transformation of a 1916 armory into a squash center, our team scanned the entire facility—capturing detailed measurements of its existing structure. We then used the scan data to coordinate the building's new mechanical piping system, overlaying the scan with our 3D model in Autodesk ReCap to ensure everything fit seamlessly. By scanning the facility before modeling the pipe, we were able to ensure that installation ran smoothly, eliminating the need for rework.
Prepare for Your Next Renovation Project
Want to streamline your next renovation project? Schedule a free, one-on-one demo with our experts to learn how 3D scanning can help you minimize rework and other setbacks, helping you keep your project on schedule and under budget. You'll learn how 3D scanning works and how it streamlines productivity and eliminate delays.