A Year of Resilience: Our Climb through 2020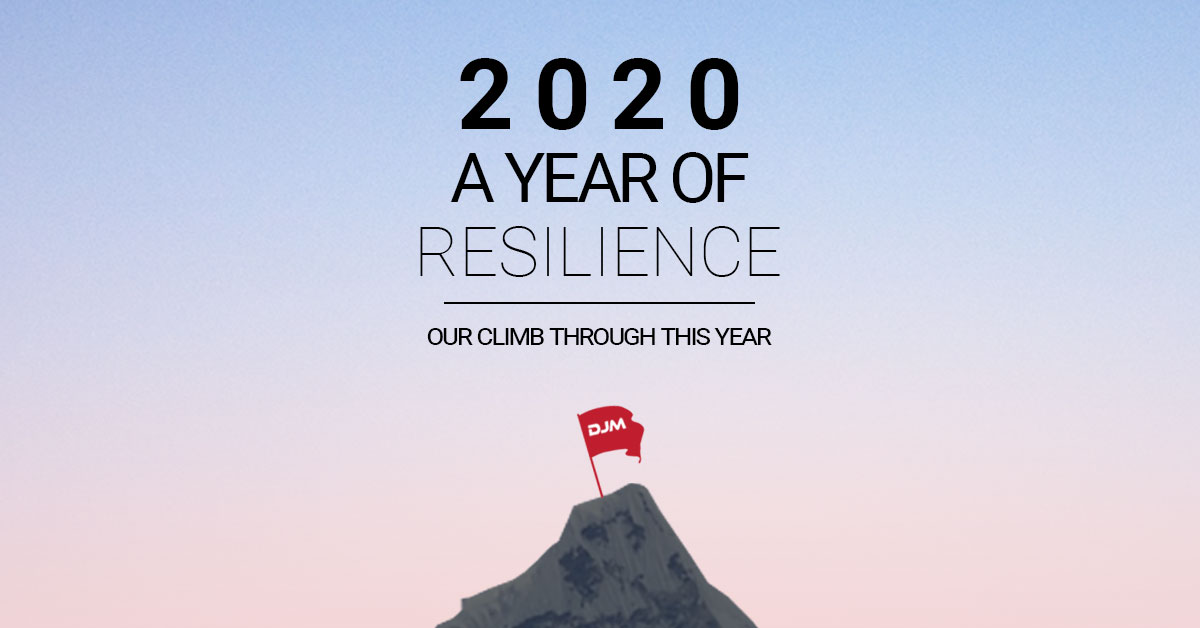 A reflection on our climb through the year
It would be the understatement of the year to say that 2020 was challenging. While there were a few bumps in the road (ahem COVID, lockdowns, delays, and more!) I am grateful for the lessons we learned and those in the DJM extended family that enabled us to have a great year amidst the current situation.
Steve Jobs once eloquently said, "Great things in business are never done by one person. They're done by a team of people." As I reflect on this past year, I am proud of the work my team has done and the way they exhibited their resilience in the face of struggle. The amount of disruption we experienced at the beginning of this year was staggering, and yet our people kept their nose to the grindstone, ensuring that we stayed strong.
Our climb through 2020
While it is hard to encapsulate the achievements, we made this year in a shortlist, here are a few numbers that stick out to me. From January to December, enjoy our climb through 2020: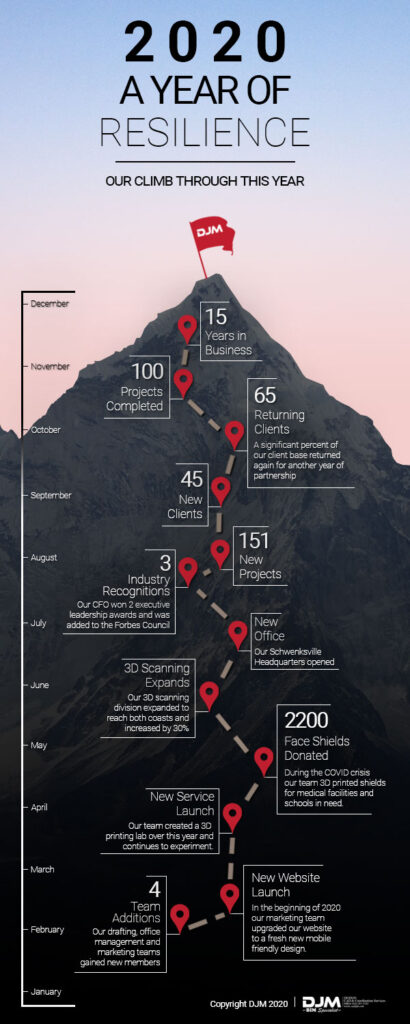 1. Four New Team Members
In 2019, DJM was blessed to grow. The influx of new clients and jobs required that we expand our team and this past year we completed a round of hiring. As a result, our drafting, scanning, and marketing teams grew. These new employees added to the richness of 2020.
2. New Website Launch
To better manage our online presence and keep up with the times, our marketing team launched a new site. This required a redesign of each page and a new mobile-friendly layout. No small feat!
3. New Service Launch
As a tech company, our eyes are always on new and emergent software and tools. Having added scanning to our services in 2019, the DJM team expressed a desire to add another in 2020.
There are quite a few discussions taking place in construction on how large-scale 3D printing could make the industry more sustainable. While we are not there yet, our team decided to experiment on a small scale.
This resulted in the launch of the DJM 3D printing lab. Currently, we use this space to print out architecture models, as-builts, and floor plans. We are looking forward to more use cases in the future.
4. 2200 Face Shields Donated
In March, as the stay at home orders went into place and hospitals in the cities began to be overwhelmed with COVID patients, our team began looking for ways to help with the resources available to us. Having just launched our 3D printing lab, we started to print face shields for medical professionals and schools in need.
The response we received from this was overwhelming. Our small shop worked round the clock to churn out and donate 2200 face shields. We gave these at no cost to the hospitals and schools.
5. 3D Scanning expands
The COVID crisis forced a digital transformation across the entire construction industry. Remote work capabilities were no longer a nice to have but an essential component to business operations. As stakeholders looked for ways to adapt, we were thrilled to see our 3D scanning services grow.
Scanning combines advanced photogrammetry and laser technology to create an exact photo-realistic digital twin of a designated area. These digital twins inform the preconstruction and design process to prevent costly rework and mistakes.
6. New office
In 2019, we decided to consolidate our offices from the hustle of King of Prussia to our small town along the Perkiomen. The goal was to move to our new facility in late 2019. Renovations and local authorities pushed this to early 2020. Then COVID hit! Nevertheless, we moved and celebrated our new home in the summer of 2020.
7. Three Industry Recognitions
Throughout her 35-year career, our CFO and co-founder Lori Moes has been recognized as a dynamic and thoughtful leader. In 2020, we were thrilled to have this acknowledged by ConstrucTech, Construction Business Owner, and the Forbes Council.
8. 151 New Projects
COVID concerns were rampant in many industries, and construction was no exception. Throughout the uncertainty of 2020, we continued to be given new jobs by returning and new clients. In a time when layoffs are common, we are thankful for the 151 new jobs we received in 2020 that allowed us to maintain 100% employment throughout the year.
9. 45 New Clients
Not only did we obtain new projects, but the DJM extended family also grew by 45 companies in 2020. In a year that was negatively categorized by the media, we feel blessed that 40% of our business came from new clients.
10. 65 Returning Clients
When we calculate the number of returning clients, it is always humbling and encouraging. As a small business, we are thankful for the trusted partners and relationships we have built that continue each year. In 2021, we look forward to delivering industry-leading work to maintain these relationships in the new year.
11. 100 Projects Completed
Each year, our team sets ambitious goals. This year was no different, even with the trials of COVID. I am delighted to say DJM completed over 100 projects. Some small, some large spanning over a year or two. This was no small accomplishment considering the work from home orders, project delays, and more.
12. 15 Years in Business
As 2020 Closes, 2021 begins. January 2021 we will begin our 15th year in business. While we are proud of the year we have had, none of it would be possible without our esteemed clients and business partners that allow us to continue. We so appreciate your business and look forward to working with you in 2021 and for many years to come! We wish you health, happiness, joy, and prosperity this holiday season and in the new year.
From all of us at DJM,
Dan Moes, CEO & Co-founder