The Future Home Of DJM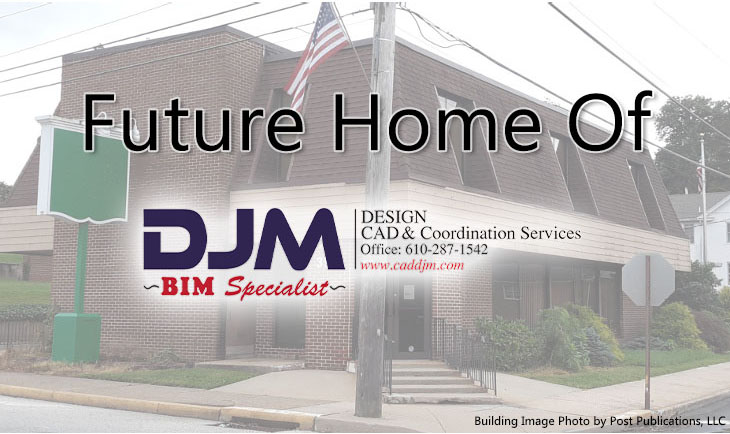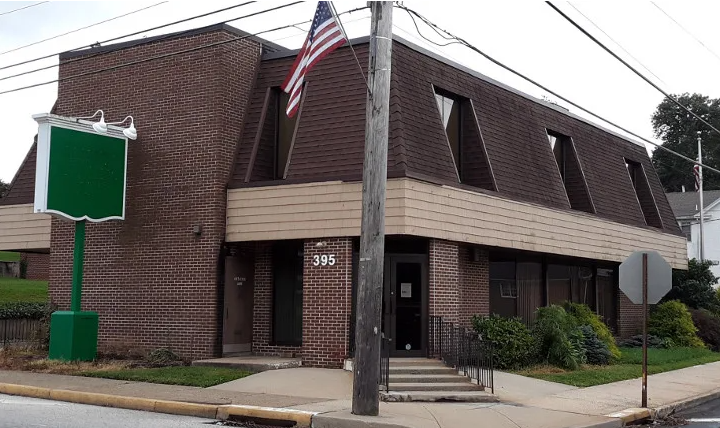 This post was originally published by J. Zlomek, on July 30th of 2019 as High-Tech Firm Plans Move to Vacant Bank.
DJM CAD Design & Coordination Services Inc., described by its website as a Schwenksville-based "virtual construction company" that works with a growing list of government, commercial, and private clients in the U.S. and internationally, has announced it intends to move from its 272 2nd St. offices to the former Ambler Savings Bank branch at 395 Main St (at top).
A sign proclaiming the 6,700-square-foot bank building, built in 1975, as the "future home of DJM" recently was affixed to its front door (right).
DJM specializes in what is called "building information modeling." Its staff uses a variety of computers, customized software, and printers to create three-dimensional renderings and models for architecture, engineering, and construction professionals.
The company employs drafting technicians trained in mechanical, electrical, and plumbing trades, according to its website, whose skills and expertise can help eliminate change orders and requests for information – and potentially reduce costs – before construction starts.
Global market revenue for building information modeling is expected to reach a total of $13.2 billion by 2024, a 2019 industry report published June 5 estimated. North America has been cited as the market-share leader in such design, primarily due to residential and commercial building growth. An increasing number of governments in developed countries are requiring modeling as a design standard, it added.
High-tech-oriented DJM is among players in the market, which an earlier report said benefits from "growing awareness" about modeling among constructors and contractors in North America. Currently the company is advertising employment openings for modeling project managers, assistant project managers, and three-dimensional computer-assisted design drafters.
Montgomery County property records indicate the bank property was sold during mid-June (2019) by Ambler Savings to Moes Commercial Properties LLC for $349,900. The deed was recorded June 28. Daniel Moes is president of DJM, its website notes, and the Pennsylvania Department of State lists the limited liability company with the same address as DJM.