How Does BIM Enable Better Facility Management?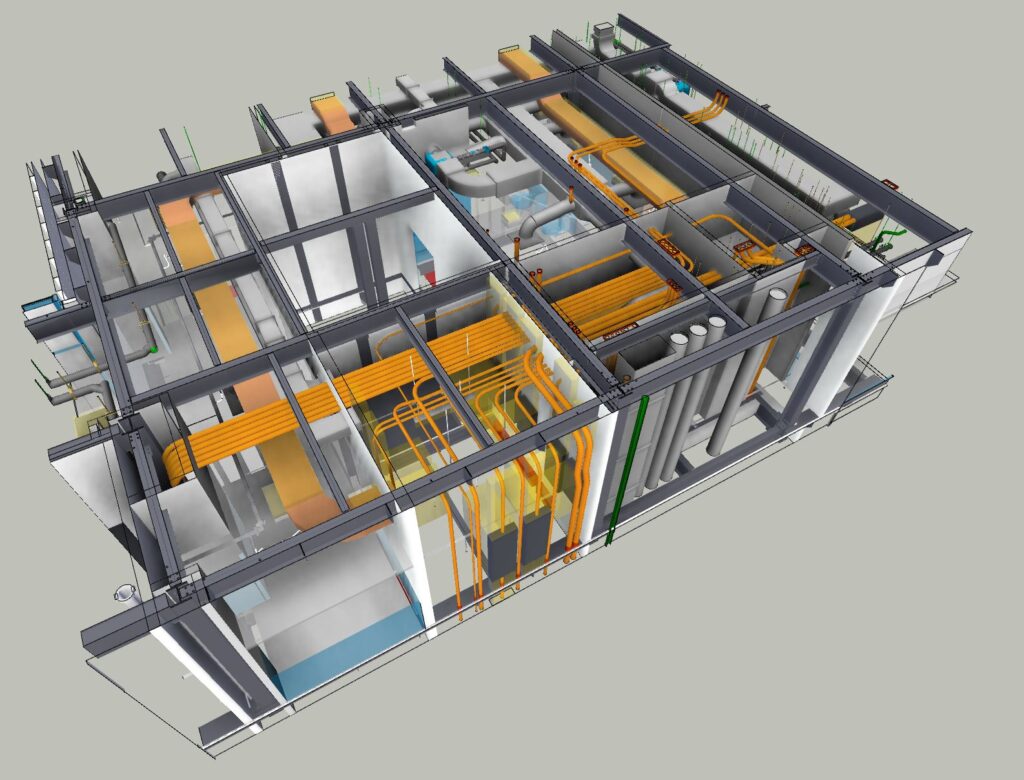 Effective facility management (FM) involves continually tracking and updating information about existing building conditions. To maintain the components of a facility, the documentation that facility managers reference must be accurate and up to date. This requires a system in place to update missing or outdated documents so that facility operations can continue to run smoothly.
With the use of Building Information Modeling (BIM), facility managers can digitize their facility management processes. This means that project teams can insert the information needed for building maintenance and repair into a central BIM model for easy access. Facility professionals can then reference this BIM model when looking for asset data and spatial information, simplifying the maintenance process. Because BIM models reduce the time spent on populating FM databases, they can also help lower maintenance costs in the long-term. BIM not only supports planning and construction but also maintenance—optimizing facility management planning and lowering costs for stakeholders.
The Traditional Approach
FM involves collaboration between different disciplines to ensure that facilities are functional, safe, and sustainable. To oversee these disciplines, facility managers must have access to paper documents that provide an accurate representation of as-built conditions.
Because these documents are so critical for successful building maintenance, they must be comprehensive and continually updated. If any documents are missing or inaccurate, facility managers must produce new documents detailing the as-built conditions—driving up labor costs for building owners. BIM can be used as a cheaper alternative to traditional FM, simplifying maintenance and reducing labor costs for stakeholders.
How Does BIM Support Facility Maintenance?
BIM is the process of creating and managing information about a built asset during its project life cycle. With BIM, project teams can contribute information about a structure in a shared digital space. This allows for better communication between the trades, improving collaboration and reducing the risk of errors and clashes. By integrating BIM models into FM systems, stakeholders can improve their space management, simplify maintenance, and save money in the long-term.
By implementing BIM, facility managers can take advantage of the following benefits:
Improved Space Management
With BIM, facility professionals can find more accessible information about facility space. BIM models are data-rich sources—containing detailed information that goes beyond the spatial data offered by 2D floor plans. Facility professionals can reference these models to determine the size, use, location, and contents of the assets within their facility. With this information, facility managers can ensure that capacity limits are not being exceeded—avoiding costly downtime. Detailed information about facility space can also help reduce vacancy and achieve major reductions in real estate expenses for owners.
Construction Operations Building Information Exchange (COBie), a data format that provides a list of the equipment and spaces associated with a building, supports facility asset information exchange. COBie is a format for BIM models that delivers asset data—streamlining the data handover from construction to operations. With COBie, facility managers can take care of building operations, maintenance, and management without having to sift through manual documentation—decreasing labor time.
To learn how BIM can help you streamline your facility maintenance tasks and reduce operational costs, download our e-book here.
Simpler Maintenance
Facility managers can also use BIM models to simplify their maintenance process. This is because BIM models contain asset profiles for each object within the model, including location, performance data, physical dimensions, and maintenance manuals. This allows facility managers to quickly find details about their assets—speeding up the process of fixing, upgrading, and replacing equipment.
BIM models can also cut down on the time spent on populating FM systems. Because BIM models are highly comprehensive, facility managers do not have to spend as much time inputting data into their FM systems. This translates into reduced costs for building owners, as much of the data already exists within the BIM model.
Cheaper Renovations
Renovations are often costly, requiring building owners to compile accurate information about as-built conditions before construction begins. With a regularly updated BIM model, building owners can access better information about their as-built conditions before renovating—reducing the risk of costly change orders. Although building owners often focus on reducing costs in the short-term, cheaper retrofits and renovations can contribute to cost savings in the long-term. These savings are significant, allowing owners to boost their bottom-line during the maintenance process.
Choosing a BIM Provider
The benefits of BIM can be seen throughout the building life cycle, from enhanced planning and construction to simplified maintenance. Facility managers can use BIM to save time, money, and effort when maintaining buildings or facilities.
At DJM Design, we understand every situation is unique, and we are dedicated to finding the right BIM solution that fits your needs while staying within budget. Contact us today to discuss your needs and how our BIM services can help you optimize your facility management. We look forward to hearing from you!