7 Statistics for Women in Construction Week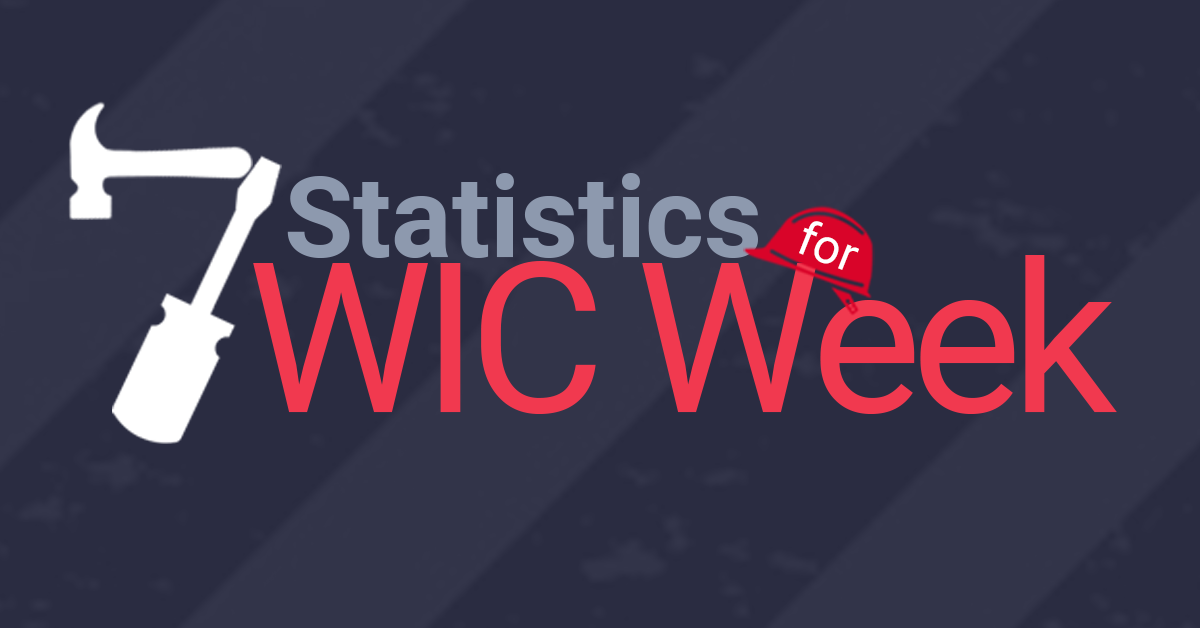 Another March means it is once again the time of year to celebrate Women in Construction (WIC) Week! WIC Week helps raise awareness about the many career opportunities available to women in the construction industry. While there has been much progress made over the past decade, there is still a long road ahead to equality and inclusion. The below seven statistics and accompanying infographic add to the rich narrative of how far the industry has come and where there are still opportunities for improvement.

Women make up 9.9% percent of the construction industry in the United States
This frequently sighted data point comes from the Bureau of Labor Statistics, but as Kim Slowey pointed out in her 2019 Construction Dive article, "The statistics for trade involvement tell a much different story." Upon examining the data more closely, the number of women deployed in the field is only 3.4%. Unfortunately, this percentage shows there is still a pervasive and unconscious stereotype that trade roles are filled by men.
However, progress continues regardless of stereotypes. Data recently collected by Smart Asset shows that from 2015 to 2019, the number of women in construction management grew from 49,400 to 99,400. As associations like the National Association of Women in Construction (NAWIC) and the Women Construction Owners & Executives USA (WCOE) continue to raise awareness, opportunities grow in emerging fields, and gender diversity will increase.
The Great Recession caused over 300,000 women to leave construction
Stereotypes and unconscious bias are not the only contributors to the lack of female construction opportunities. The Great Recession lost about 1.5 million construction jobs, and 300,000 of them were for women. Osha shows that construction made great strides regarding gender diversity from 1985 to 2007. The financial crisis put the industry back to 2000 levels.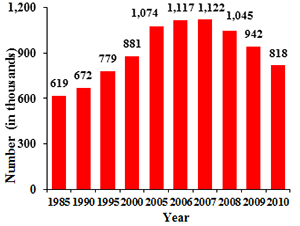 Additionally, stakeholders are concerned that the recent pandemic will hurt gender diversity in construction. Project delays and shutdowns have caused job shortages in every industry. Construction will similarly be affected. Reflecting on this, Brian Turmail of the AGC said, "We clearly have much more work to do as an industry to recruit, hire and retain a more diverse population of workers, particularly women."
Most women in construction work in managerial capacities
Interestingly data collected by the Bureau of Labor Statistics show that women shine in leadership and management roles. 44% (the overwhelming majority) of women in construction work in these capacities. The second and third most common positions are sales & back office (28%) and service (21.2%). While each of these jobs are vital to the industry, the percentages show there is little variety for women in construction. There is obvious room for women to gain more traction in trade and technology roles. As the industry continues to make this a priority the female quotient will likely rise in these areas.
Women earn 99.1% of what men make in construction
Women are often encouraged to join construction because the pay gap is significantly smaller than other industries, with women earning an average 99.1% of what men make. This progress is something to celebrate. However, there is a caveat if you are a woman of color. A fact sheet released by the National Women's Law Center shows that black women earn $0.81 for every $1.00 paid to white, non-Hispanic men working as construction laborers. The pay gap is even larger for Hispanic women in construction-related occupations. They make 72.3% of Hispanic men's and only 53.3% of white men's earnings in the field. It is important to recognize that construction needs to address equal pay across race as well as gender.
Minneapolis, MN is considered the best city for women seeking construction employment
In a 2020 analysis, Constructioncoverage.com looked at the number of construction jobs available in each major US city and analyzed the percentage occupied by women. They used this to devise a list of the top 20 cities for women pursuing a construction career. Surprisingly, the city ranked the friendliest was Minneapolis! The city owns 19.1% of female construction employment. This is a great resource for any recent trade school or college graduate looking for a place to get started.
When women make up half of senior management, companies earn 10% more
As mentioned above, when offered leadership roles, women excel and add to company profitability. A survey from Credit Suisse demonstrated this by showing a 10% higher cash flow return for companies with a 50% female executive staff. Recent data from Deloitte and McKinsey have proven this point further.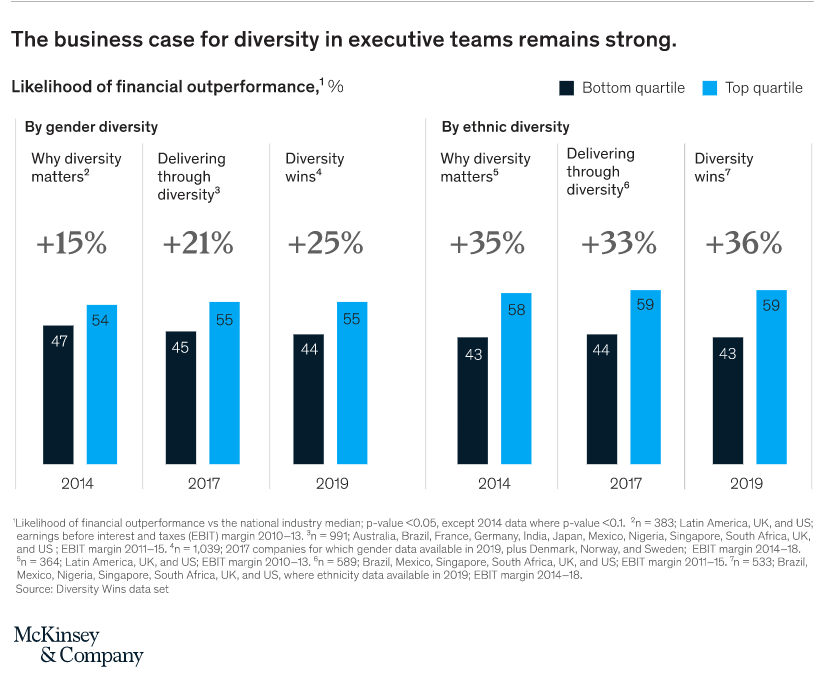 In 2019 McKinsey found that companies with diversity are more likely to have above-average profits. More specifically companies in the top quartile for gender diversity were 25% more likely to earn more. Data interpreted by Deloitte ads to the narrative showing that increasing gender diversity is key to reducing poverty and national financial prosperity. Increasing the percentage of women in construction leadership roles helps everyone by increasing resilience.
Closing the gender gap could increase GDP by an average of 35%
This same study from Deloitte demonstrated that closing the gender gap would improve the global economy. The study stated, "not only do individual businesses stand to gain from more fully capitalizing on the talents of women, the economy as a whole gains." The IMF in partnership with the World Economic Forum found the improvement to be by a GDP increase of 35%. What does this mean? GDP measures a country's economic output against its number of people. Therefore, not only do women stand to benefit, but men do also.
A DJM Perspective
In 2020 our co-founder and CFO Lori Moes reflected on the state of the gender gap in construction. Lori said, "As technology continues to make an impact on construction, I believe it act as a bridge in many areas, making the industry at large more friendly to a wider range of people. I firmly believe that if you want to succeed, you can, no matter your gender! So whether its design, installation, BIM Coordination or office administration, I say go for it! The field is open to you."