Why Scan-to-BIM is Ideal for Renovations & Equipment Fit-outs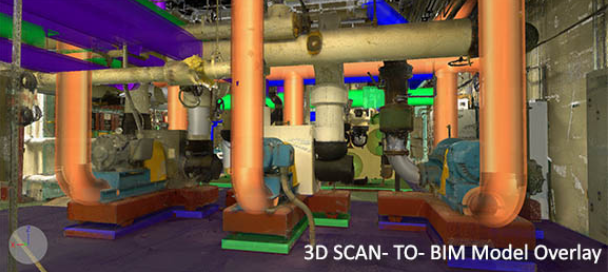 Renovating a building with new equipment can be a quick and easy three-step process with 3D laser scanning and building information modeling (BIM). Here is how it works.
Step 1 – Verify Your Site with 3D Scanning:
First things first, can the new equipment fit into the current space? The building's as-built documents are likely outdated or incorrect. To verify them, the area in question needs to be assessed.
With a non-harmful laser, the 3D laser scanner takes measurements and captures a virtual tour of the area with accuracy down to the millimeter and no room for human error. This speeds up the project timeline and boosts your bottom line by requiring only one technician and a few hours to complete site verification. Building owners can use the scan and virtual tour to take additional measurements and assess whether further adjustments are needed to make sure the new equipment will fit.
Step 2 – Building Information Modeling (BIM):
Using the measurements and virtual tour created by the 3D scanner, BIM specialists can create CAD or REVIT models of the new equipment and design it specifically to fit the space. These models can be used in the manufacturing process to make sure the equipment will fit the space correctly the first time.
Step 3 – Clash Detect with Scan-to-BIM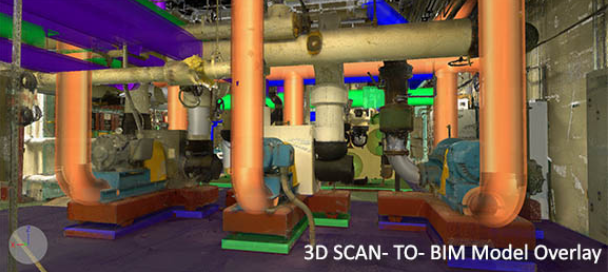 Besides using them during the manufacturing process, BIM models can be used to clash detect the new equipment plans. After the 3D scan has been taken, and the new equipment has been modeled, BIM specialists can then combine these two pieces of information by overlaying the scan into the Navisworks Model as seen in the image above. Project managers can then visualize the building's connection points and make sure that the equipment is being placed in the correct area of the structure. After visualizing the renovation in its completion, building owners can move forward with the process, having complete confidence in their plans.
Adding new equipment to a building is expensive. The materials and labor required for installation add up quickly. Hiccups in the process can cause thousands of unforeseen costs in additional labor and new materials. Using 3D scanning and BIM at the beginning of the process saves time, money, and prevents project delays. Taking this additional step to make sure the new equipment is designed and manufactured correctly is worth it in the long run.
What to see how 3D scanning could be used for your renovation and equipment fit out projects? Get a demo today!