Why Verifying As-Built Documents with a 3D Scanner Optimizes the Construction Lifecycle
This story happens too often. The as-built documents were incorrect which lead to work order changes, project delays, and thousands in unforeseen manhours and materials. This chain of events does not have to be the standard. With 3D scanning, the construction lifecycle starts with correct measurements and documentation that prevents common and easily avoided issues. Here is why verifying a construction site with 3D scanning technology streamlines the construction lifecycle.
Exact site measurements the first time
With a 3D laser scanner, there is no room for human error. Using advanced laser technology, the scanner spins in 360 degrees and takes exact measurements of the entire site. Anything that the human eye can see, the scanner also sees but in detail down to the millimeter. This innovative way of taking measuring prevents mistakes that could be made using a measuring tape. Project managers can have complete confidence in their as-built documentation and site measurements with a 3D laser scanner.
Additionally, the scanner's exact measurements can help inform the building information modeling (BIM) process. The scan files allow BIM specialists to draw equipment and trade-specific materials that fit perfectly the first time they are installed.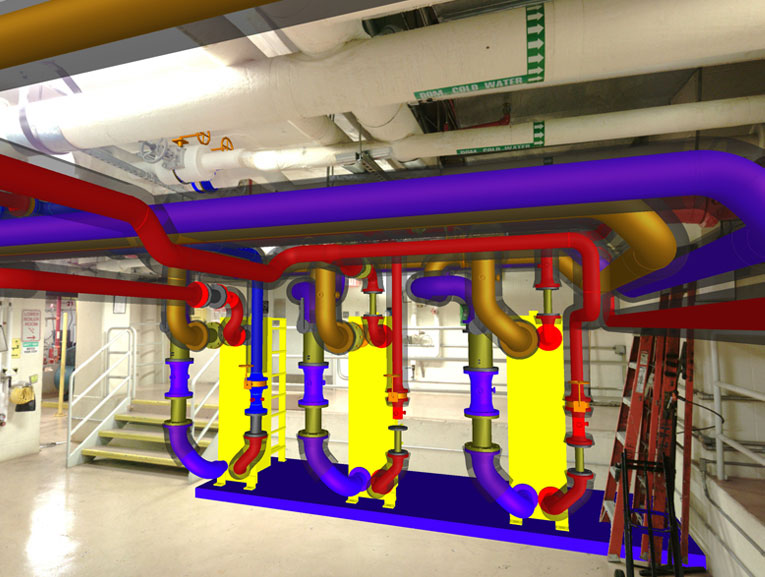 Advanced coordination capabilities
When coordinating a project, managers may be working with teams in different locations. Communicating construction plans over inaccurate 2D blueprints are ineffective and can lead to hiccups and trade conflicts which could have been easily prevented. With a scanner, managers can spot problems and offer solutions in a high-resolution 3D virtual tour.
As the scanner measures the room, it also captures a virtual tour of the area. Teams can view this over the internet to walk around the site, test whether new equipment will fit, verify project plans, and take additional measurements. Tradesmen can have deep insight into complex areas like mechanical spaces and boiler rooms. Field teams can view the structure and see the entire site without needing to travel. This tour makes it easy to coordinate and visualize the project. This practice streamlines the preconstruction process.
Maintain project deadlines
Inaccurate site measurements and trade clashes inevitably lead to work order changes and RFIs. The additional hours tied up in submittals and approvals slow down the project timeline, negatively affecting the bottom-line. By starting with correct measurements and having remote coordination capabilities, early project hiccups are eliminated.
In addition to preventing project delays, starting your process with 3D scanning also speeds up the timeline by trimming down the verification process. Construction sites that would have taken a few weeks to measure and verify are completed in a matter of days by hiring a professional 3D scanning technician. This can lead to dramatic cost savings in skilled trade labor as evidenced by our recent case study showing a 75% reduction in cost.
By using the 3D scanner to verify the as-built documentation, construction teams have site measurements they need to coordinate the project correctly and maintain deadlines. To see how much you could save on site verification, contact our scanning team.