4 Construction Uses of AI
Don't let fear or misunderstanding of artificial intelligence deter you from the possible positive outcomes of the technology's adoption.
This article was originally published in ForConstructionPros
Throughout human history, there have been dramatic technological shifts. From the Industrial Revolution to the Internet, certain moments have forced significant change across every business category. While AI still might make some uneasy, it is largely because the technology is misunderstood or unfamiliar. Like many previous disruptions, it will inevitably cause fast, dramatic change, but could lead to new opportunities and ways of doing business. Here are 4 applications of AI that could positively benefit the construction industry.
Site security and theft prevention
Construction site theft is a common problem general contractors face especially on large scale projects or sites located in highly populated and congested areas. NER estimates that stolen equipment can cost US business between $300 million to $1 billion each year. The frenzy of activity and nightly shut-downs make construction sites an easy target for looting.
Using an AI to analyze security camera footage 24/7 could prevent a significant amount of these crimes. By training the program to recognize normal and abnormal activity, AI could identify suspicious activity and notify security that action is needed. By having a collaborative model between humans and AI, construction sites remove human error from site security.
Risk and safety management
Similar to spotting potential theft, AI can be trained to predict and prevent construction injuries. By analyzing live site video footage, AI can recognize scenarios that commonly lead to injuries. If construction workers are not wearing protective equipment or if the site conditions are dangerous, site managers can be alerted to ensure things don't take a deadly turn.
Innovating ways to prevent construction incidents is critical as the stakes for construction workers are high. The Center for Construction Research and Training estimates that over a 45-year career, a construction worker has a 75% likelihood of experiencing a disabling injury and a 1-in-200 chance of being fatally injured. According to OSHA, many of these incidents occur from falling.
Out of OSHA's fatal four, falling is number one, accounting for an estimated 33.5% of construction deaths. The other three include being struck by an object, crushed by a collapsing structure, or electrocuted. By using an AI to analyze and alert managers in real-time, many of these scenarios could be prevented, saving lives.
Job quality analysis
AI could also be used to analyze job quality, pointing out if the finished product falls short of the agreed-upon project plans. By comparing the build drawings with the job site progress, AI could catch unlevel surfaces, concrete cracks, or larger defects like drawbacks to structural integrity.
While this application has yet to come to fruition, it could be helpful throughout the construction lifecycle when combined with IoT and drones. AI receiving real-time progress images from drones could alert construction managers if certain aspects of the build have been completed incorrectly. This level of insight would ensure that the highest level of quality is achieved.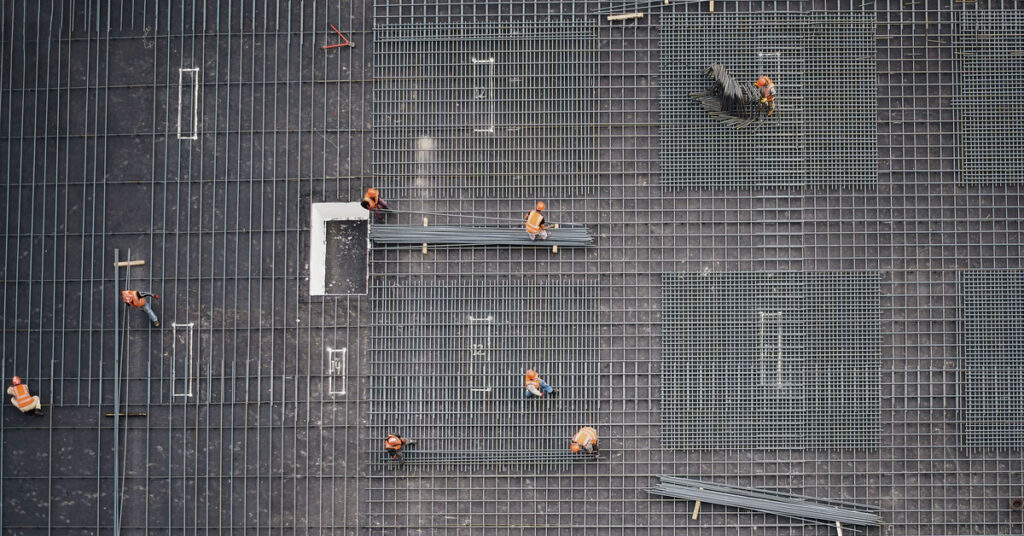 Productivity
The skilled trade gap is a problem construction has been facing for the past decade and is not going away any time soon. Baby Boomers that occupy a significant portion of skilled trade positions are nearing retirement. As they retire, millennials and younger generations will be unable to fill all the vacancies creating a hole in the workforce. A survey performed by the Associated General Contractors found 80% of construction firms report difficulty with finding qualified workers. The National Association of Home Builders reports that out of the 1.5 million workers lost during the recession, only 600,000 have been regained.
While the National Department of Labor and other organizations are working hard to change this reality, the construction industry should look for ways to augment the labor shortage with AI and robotics to close the gap. In manufacturing, where the workforce is similarly struggling, smart robotics have been used to work alongside humans. These bots fill monotonous and time-draining tasks, allowing warehouse teams to meet their business needs amid their dwindling workforce.
Alongside filling the skilled trades gap, augmenting certain tasks with AI-powered robots would help prevent the toll that construction takes on workers physically. Due to the intense physical labor required, many construction professionals deal with daily pain. Improving site conditions by giving the most physically demanding tasks to smart robots would make job sites safer and improve the long-term quality of life for tradesmen.
Project plan optimization
Before a construction project begins there are a series of collaborative decisions that need to be made among the project stakeholders. Carrying out this process of submitting and approving is tedious and time-consuming. Instead of keeping track of all these pieces of information manually, construction teams could use an AI-augmented system to automate the process, helping project managers to keep each team on track.
AI-augmented scheduling does not stop with preconstruction. AI can be used to keep tabs on the entire construction lifecycle, acting as a personal assistant to each project manager. By using the power of smart technology, project managers could optimize project timelines.
AI is slowly entering every industry. While there are a wide variety of opinions on the ramifications of this transition, it is inevitable. Contrary to popular opinion, where AI has been applied, it has helped rather than hinder humans. Instead of resisting, construction should look at this technology as an opportunity to improve business. AI disruption is coming. It will be up to humans to determine whether this change is good or bad.