Hard Hat Face Shields Designed for Virus Protection on Construction Jobsites
Release originally posted on ForConstructionPros
Patent-pending lightweight design easily slides onto existing hard hats to help teams practice virus protection.
3D printing and BIM coordination company DJM has created a face shield to help construction workers and tradesmen stay safe during COVID-19. The patent-pending lightweight design easily slides onto existing hard hats and was made to help teams practice virus protection.
How it started
DJM's founder Dan Moes was inspired to create the design after printing and donating almost 1,000 face shields to many hospitals and healthcare workers in the Philadelphia area. "I wanted to create a shield for construction teams that could be quickly produced and easily reused", said Moes.

Both of these things are true of the shield design as 60 to 80 can be produced per hour, and the plastic covering can be switched out if need be. "The visor piece is incredibly durable and if the plastic shield either cracks or becomes too clouded, construction workers can simply remove and replace it with a new one", Moes continued.
The hard hat face shield is assembled by two pieces, a 3D printed visor adapter, and a plastic face covering. The visor adapter attaches to the brim of the hard hat and allows the plastic face covering to be snapped onto the four hooks on the end of the adapter, holding the shield securely in place.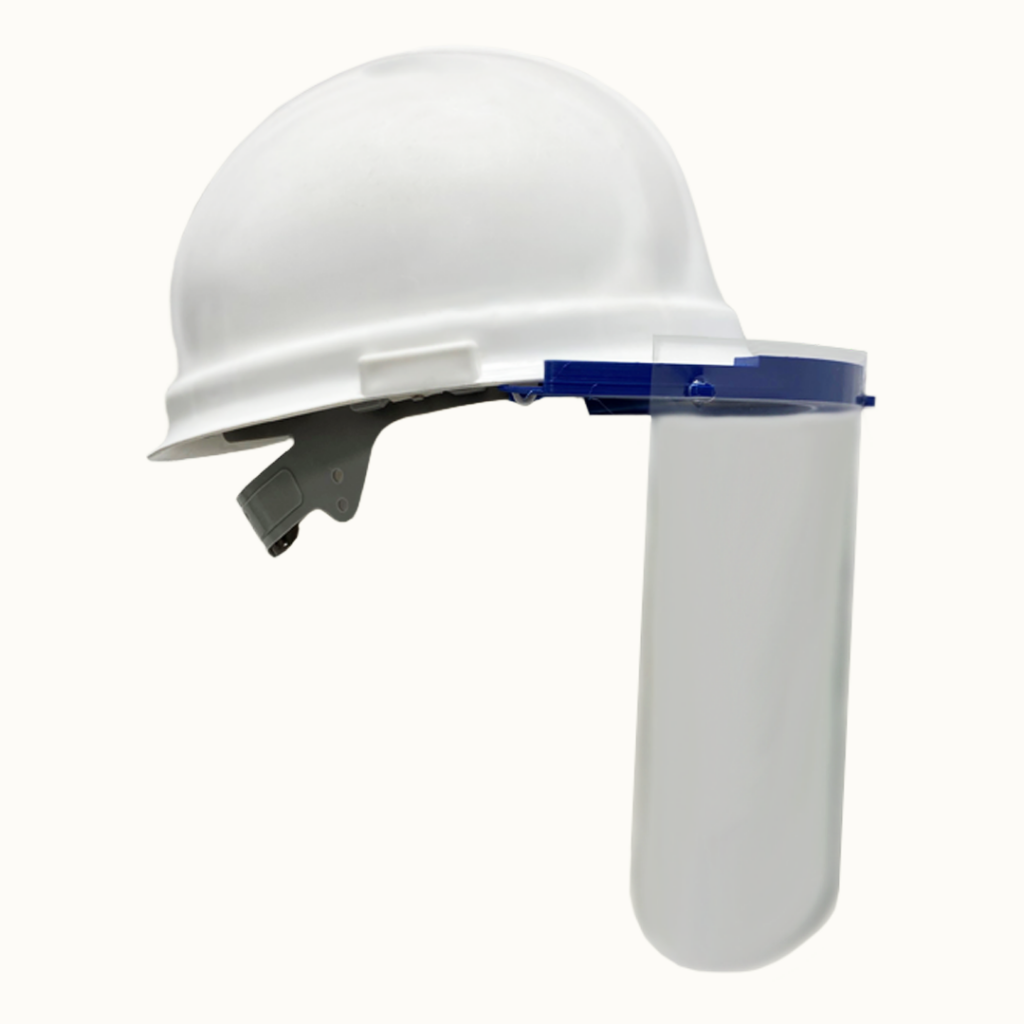 New face shields for construction workers
After creating the initial design fitting all Omega II style hard hats, the team received overwhelming interest and began to customize the design to fit MSA V style hard hats and even baseball caps. This way whether tradesmen are on-site or serving local homes, they have a way to stay safe. The baseball cap shield is designed similarly to the hard hat with a plastic adapter that easily attaches to the visor of the cap and enables the plastic cover to be fastened to its hooks.
All face shields are 100% made in the US and are printed right out of their office in Schwenksville, PA. Both the hard hat and baseball shields go for $10 each and are available in blue, yellow, gray, red, and purple. The team so far has experienced overwhelming demand and hopes to increase production to 200 a day with additional 3D printers on the way, churning out an estimated 1,000 weekly.
DJM's offers Face Shields. 100% Made in the USA.